Common Ground's 11th Annual Celebrating Home & Community Gala took place on Tuesday, October 22, 2013 in New York City.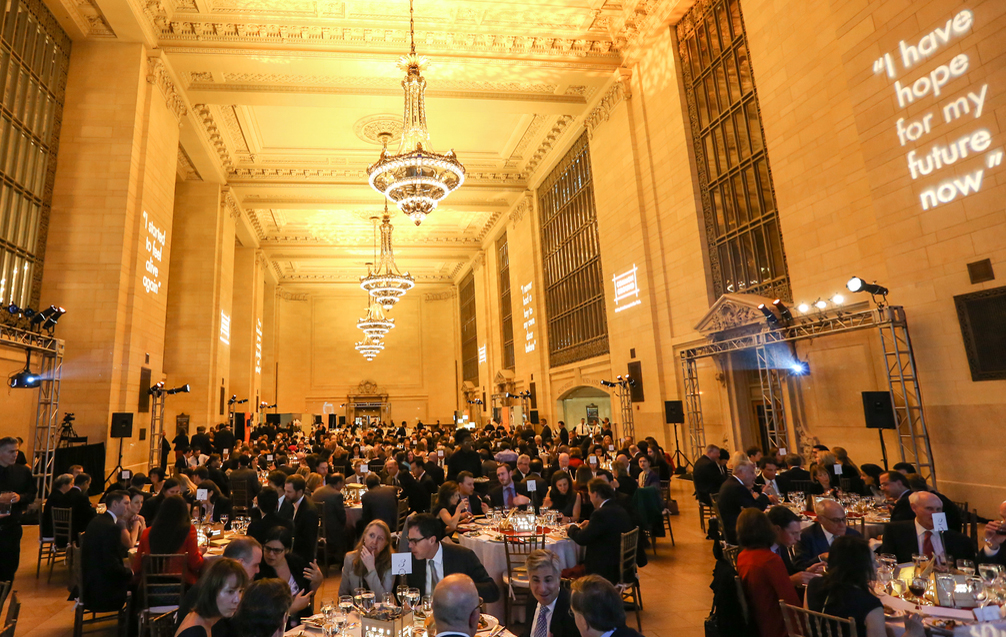 Click here or on the image to view the album of event photos on Facebook.
At the sold-out event, which raised over $1.05 million dollars for our housing and outreach programs, we had the pleasure of honoring two distinguished individuals - Janette Sadik-Khan, Commissioner of the NYC Department of Transportation, and architect Robert A.M. Stern.
Janette Sadik-Khan is among the most influential urban and transportation planners in the country. Since 2007, she has implemented an ambitious program to improve safety, mobility and sustainability throughout New York City. Janette's innovative projects include creating 54 pedestrian plazas, implementing seven Select Bus Service routes, and launching the nation's largest bike share program, all of which have greatly benefitted Common Ground's low-income constituents.

Internationally acclaimed architect Robert A.M. Stern is founder and senior partner of the 275-person New York-based Robert A.M. Stern Architects and Dean of the Yale School of Architecture. He and his firm have built a significant body of work in an extraordinarily broad range of building types both domestically and internationally. Stern has been recognized with many of the profession's top honors, including the Driehaus Prize, the Board of Directors' Honor from the Institute of Classical Architecture and Art, the Athena Award from the Congress of the New Urbanism, and the National Building Museum's Vincent Scully Prize.
Each year, nearly 4,000 chronically homeless and low-income individuals are able to attain and sustain stability through Common Ground's programs. On October 22nd, we will celebrate this record and an exceptional period of growth over the past 12-months when we realized a substantial expansion of our street outreach and permanent supportive housing programs. Common Ground's annual Celebrating Home & Community Gala is our agency's single largest source of private philanthropic support. Your contribution to this evening's success is therefore invaluable to our continued ability to make such a meaningful impact on the lives of disadvantaged New Yorkers.
Thank you for your interest in our 2013 gala. If you haven't yet done so, please consider making a donation in support of our programs.
Please contact Frederique Henriot, Director of Special Events at 212.389.9307 or fhenriot@commonground.org with any questions about the event.