More than half of homeless single adults in the United States struggle with mental illness, substance abuse, and chronic health problems like HIV/AIDS – issues that contribute to and maintain their homelessness. Individuals facing these issues are not helped by shelters or soup kitchens. In fact, they often reject such short-term fixes, instead cycling repeatedly through emergency rooms, psychiatric hospitals and jails – the most costly "shelters" of all.
Supportive housing, by contrast, is extremely cost-effective: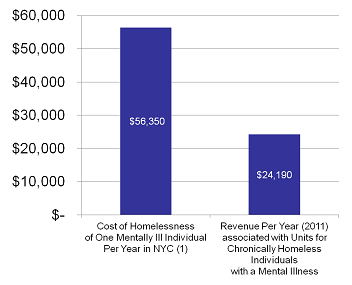 Common Ground's approach enables homeless individuals to overcome the complex challenges posed by mental illness, substance abuse, past trauma, and other barriers to stability by:
Providing safe, permanent homes without conditions. Our clients are not obligated to complete a rehabilitation program, attain sobriety, or meet any other preconditions before moving into housing.
Fostering a supportive environment focused on connectedness. On-site services address essential health, mental health, and occupational needs, while also creating opportunities for socializing, recreation, and community connectedness.
Transforming individuals, buildings and neighborhoods: At its inception, Common Ground restored the Times Square Hotel in Manhattan, converting a dilapidated and crime-ridden building into vibrant, affordable housing with on-site clinical and employment services for residents. This restoration helped catalyze the revitalization of the Times Square neighborhood and introduced a new, results-oriented approach to addressing homelessness. The Times Square residence has been replicated elsewhere in New York City, as well as in cities throughout the country and internationally.
Saving Public Dollars
Common Ground's approach to addressing homelessness not only saves lives, it saves public dollars. The annual cost to provide a single adult with supportive housing is $24,190, or less than half the cost of providing emergency, inpatient, and other crisis services to an unhoused individual with mental illness:
Service Provider
Average Days Used Per Year
Per Diem Cost
Cost Per Year
2011 dollars
DHS
68.5
$74
$5,069
$5,069
OMH
28.75
$467
$13,426
$16,513
HHC
8.25
$1,185
$9,776
$12,024
Medicaid (inpatient)
17.75
$657
$11,662
$15,216
Medicaid (outpatient)
31
$84
$2,604
$3,398
VA
4
$467
$1,868
$2,437
Department of Correction (state)
4.75
$125
$594
$594
Department of Correction (city)
5
$220
$1,100
$1,100
TOTAL
$56,350
Figures are based on Culhane, Metraux, and Hadley's estimate of services used by a mentally ill homeless individual in a year. Per diem costs were updated and a 3% inflation rate was used to estimated cost in 2011 dollars.