Building Overview
Location
Rochester, New York view map
Housing Type
Permanent
Opened
2012
Units
80
Residents
Low-income and formerly homeless adults
On-site Services
Case management
Special Features

Lounge areas
On-site laundry facilities
Secure bike storage
Program space for computer or arts use
24-hour security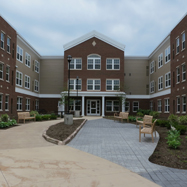 Eastman Commons has been transformed from a deteriorating, vacant and contaminated manufacturing building into a new affordable residential housing complex. The project provides 80 one-bedroom rental units where residents hold standard lease agreements. All resident incomes are below 60% of the area median income.
The project houses a unique mix of tenants in the Rochester area. Low income, single adults comprise 49% of the units and 51% are referred from local homeless shelters. An array of supportive services are offered by a local social service provider to meet the needs of residents.
Property management services are provided by a local management company and an on-site Building Director employed by Common Ground assures that services and management are in accordance with Common Ground's mission.
Map
Virtual Tour
Shared media lab at the Eastman Commons

Example bed setup in an Eastman apartment