Building Overview
| | |
| --- | --- |
| Location | Montrose, New York view map |
| Housing Type | Transitional |
| Opened | 2008 |
| Units | 96 |
| Residents | Veterans |
| On-site Services | Common Ground provides on-site support services including assistance with re-establishing contact and relationships with family, finding work, saving for an apartment, and securing a home of their own in the community |
| Project Cost | $876,000 |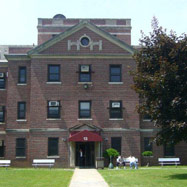 Common Ground is committed to housing homeless veterans, who are disproportionately represented among the homeless. According to the National Alliance to End Homelessness, 26% of people living on our nation's sidewalks and sleeping in our shelters served in the armed forces. On average, approximately 10% of individuals served by Common Ground are veterans.
To meet this pressing need, Common Ground, in partnership with the Department of Veterans Affairs (VA), opened a 96-unit Veterans Transitional Residence (VTR) on the Montrose, New York VA campus. The VTR, in coordination with the VA, offers comprehensive on-site case management, mental and physical health services, substance abuse counseling, and employment assistance to move individuals into permanent housing within a two-year period.
Map
Virtual Tour
The front entrance of the Montrose Veterans Residence.

Media lab at the Montrose Residence.

Common space at the Montrose Residence.

Furnished room at the Montrose Residence.