Building Overview
Location
Manhattan view map
Housing Type
Transitional
Opened
2009
Units
146
Residents

80 Safe Haven units for street homeless
38 shelter units
28 housing-needy persons

Special Features
Partnering with the Architectural League of New York, Common Ground held an architectural competition for the design of the units.
Project Cost
$14 million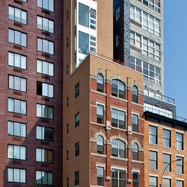 Located on the Bowery in Lower Manhattan, The Andrews is a former lodging house built in 1901. For individuals not yet ready to transition into permanent housing, as well as those who may have struggled in other housing programs, The Andrews offers an alternative to life on the street: private, safe, clean, and affordable short-term accommodations. On-site case management and clinical services are available at The Andrews to meet the needs of its residents and to help them secure permanent housing.
The Andrews is comprised of 146 short-term living units, including 80 units of Safe Haven transitional housing reserved for individuals served by Common Ground's Street to Home program and other outreach programs.
Common Ground interviewed more than 200 chronically street homeless adults to better understand what features of short-term housing would be most likely to entice them off the streets. In 2003, Common Ground and The Architectural League of New York held an open design competition for a new form of accommodation that would reflect their preferences. Competitors were asked to design a prototypical unit and show how 19 such units could be organized on a typical floor. The design of The Andrews incorporates design elements that address clients' concerns regarding issues such as privacy and personal space, thereby gaining their trust and ultimately helping to foster their transition to permanent homes.
Map
Virtual Tour
An exterior view of the Andrews

Studio apartment at the Andrews

Studio apartment at the Andrews